Company
Aulis Lundell Ltd is a leading Scandinavian manufacturer of cold rolled LGS profiles, sustainable offsite modular buildings and prefabricated panelized systems.
The company is a Finnish family business and has delivered LUNDELL-PROFILE products manufactured from hot dip galvanized steel plate by roll forming technology since 1980.
Aulis Lundell Ltd is located in Lohja, Finland and operates in 6000 m2 of product facilities. Additional factory space of 5000 m2, which will accumulate the production capacity of both modules and panels dramatically, is under construction and will be ready in summer 2023 to meet the demands of MMC customers throughout Europe.
In terms of interior design, our Liune Door production delivers ready-to-install door elements for construction companies as well as for residential builders.
The certified ISO 9001:2015 quality system stands for constant improvements of quality and the distribution equipment operating in the greater Helsinki region, ensures fast and reliable deliveries.
All our product categories have verified EPDs.
Our history spans more than 40 years back and is built on continuous development and improvement of competence, constant investment in innovative and productive technologies and cooperation with technical universities, research institutes and in-depth cooperation with industrial partners.
43 Years of LUNDELL
1980 – Founded by Aulis and Anja Lundell
1985 – Partition and Ceiling system
1986 – Wall Stud 66 mm patented
1991 – Expansion with a new production facility, Governor Eva-Riitta Siitonen opened facility
1995 – The Thermoprofile roll forming line was developed and first thermo house
2000 – Expansion of raised floor solutions
2006 – Generation change and new owner Leena Lundell
2009 – Partnered with Saint-Gobain Finland to create Gypsteel solutions in Finland and Baltics
2021 – Sustainable steel construction and award winning house Pyörre 2021
2023 – Expansion of LUNDELL X MOD steel construction modules and panels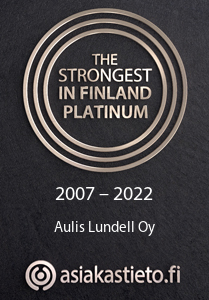 Aulis Lundell Ltd has achieved a high level, Suomen Asiakastieto Ltdgranted Rating Alfa- classification.

Aulis Lundell Oy is a member of Finnish Constructional Steelwork Association