Company
Aulis Lundell LTD is a Finnish family business company located in Lohja, West Uusimaa, where we operate in 6000m2 of product facilities.
We have delivered LUNDELL-PROFILE products manufactured from hot dip galvanized steel plate by roll forming since 1980.
The main market area of the company is in Finland.
Company specializes in developing and marketing lightweight structure systems made by roll forming and manufacturing profiles and house elements. We also manufacture Liune Door sliding door elements for building companies and house builders.
We aim to continuously improve our operations. In terms of improving overall quality, our certified ISO 9001:2008 quality system is the key. We always manufacture and deliver products according to tailored customer measurements, with fast and reliable deliveries. We own distribution equipment operating in the greater Helsinki region.
Strong development work of lightweight structure systems in cooperation with professionals guarantees the best conditions for constructing healthy and safe buildings. Our long-term work to improve the lifespan quality of buildings brings new solutions.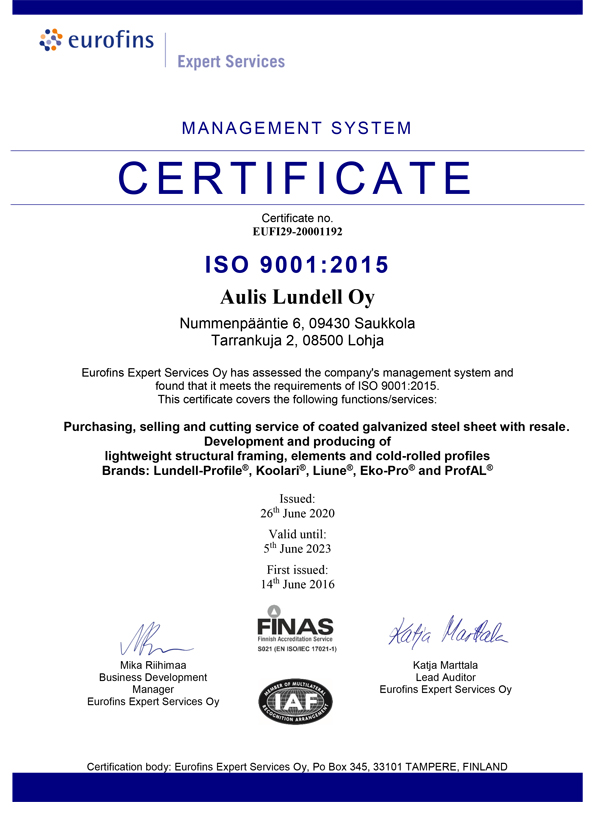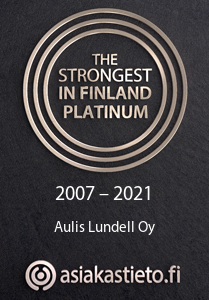 Aulis Lundell Ltd has achieved a high level, Suomen Asiakastieto Ltdgranted Rating Alfa- classification.

Aulis Lundell Oy is a member of Finnish Constructional Steelwork Association