KOOLARI® floor
New KOOLARI® floor is lightweight and transformable, and handy for building renovation projects or transforming the existing use of rooms.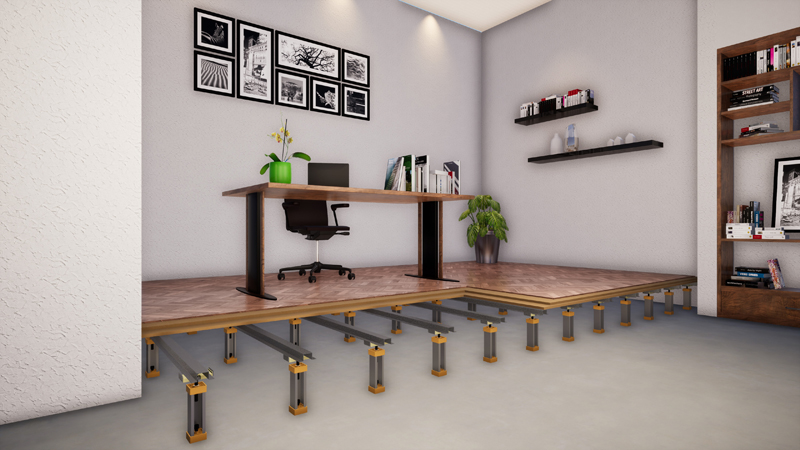 Layer floors are most typically used in renovation projects:
changing the purpose of a space
supplementary construction e.g. for attics and extra floors of apartment buildings
new HVAC can be easily located in structures with just a small elevation and short installation time
A pre-manufactured layer floor entity makes constructions quicker and more effective. Versatile space solutions bring cost savings when renovating or making changes. Installation speed is significant and the dry construction method saves time that would be used for drying.
KOOLARI® floor is a high quality choice for changing the purpose of a space. KOOLARI® is a structure installed on top of supporting structures that stays in place.
It can be modified for different purposes bringing value even in years to come. KOOLARI® layer floor guarantees safe and healthy living conditions. Our floor structure solutions meet modifiability classification requirements.
A Ready-made Solution

KOOLARI® is always delivered custom-made. Thanks to advance planning and efficient logistics, construction work proceeds fast.Using dry building, the following work phase canbegun as soon as the floor is ready.
Variable
KOOLARI® extends the lifespan of buildings considerably,because the layout of pipes and electrical wiring can be altered to comply with changes in the purpose of use of the facilities. For example, the room arrangement of apartments can be changed according to family's life situation with the location of kitchen and washing facilities no longer bound by fixed drain and plumbing installations.
Safe
KOOLARI® is the answerof demands for keeping moisture under control. The layer-floor system is built applying a totally dry building method.
Silent
KOOLARI® meets present demands applied in the EU's building regulations (in Finland this means Building Regulation Collection C1).